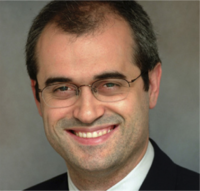 Flavio Gomes
Managing Director, Latin America @ Logitech
Flavio Gomes, Brazilian, has 27 years of professional experience in the Americas and in Asia.
He started as a trainee at Kodak Brazil, subsidiary of Eastman Kodak Co, and assumed positions of increased responsibility in Marketing and Sales, in Brazil and in other countries in Latin America, until asked to lead the Region in 2005, which he transformed into the most profitable Region for Kodak WW.
In 2008 Flavio was asked to lead the Consumer Business for Kodak in the Asia Pacific Region, focused on turning the operation around, until asked to lead the Inkjet business for the Americas, tripling its market share in the US. He joined Logitech on July 2011, as Managing Director for Latin America. At Logitech, Flavio brought Logitech to the #1 position in PC accessories in Latin America.
Flavio graduated in Marketing at Escola Superior de Propaganda e Marketing, Sao Paulo, Brazil, with an MBA from Florida International University.
Flavio is 46 years old, married with two girls. He lives in Piedmont, California.